Celebrate Canada Day
A Virtual Canada Day Celebration
Canada Day 2021
The Rotary Club of Lions Gate invites you, your families, and friends to join us in celebrating Canada Day 2021 together – virtually.
2021 North Shore Canada Day Celebrations will be brought to you via Facebook and YouTube. The Canada Day Celebration is a free online event and includes performances suited to all ages, exciting contests and much more! Wear your red and white and wave the Canadian flag together with fellow Canadians across the country and around the globe.
Follow us on social media to keep up to date on all things Canada Day
2021 Canada Day Entertainment
We have a fantastic line-up of local acts to help us celebrate Canada's 153rd birthday. Joining us will be local musicians including Adam Woodall, Andrea Superstein, Brockton World Music Program, DogHouse (David, Piper & Sam Hughes), Jared Suitor, Melanie Dekker, Sweet Pan Entertainment, The Benders, and Magician Joel Eddington.
Melanie Dekker
A Melanie Dekker grew up in Deep Cove, BC, and is said to have a "voice like chocolate". Her performances tug on your heart and leave you smiling. She's spent part of this Covid time recording, not just one, but two new albums. While Dekker finds the pace for her songs while she's hiking in the mountains, she says she continues to be inspired by the way music marvellously connects people's hearts all over the world.
Jared Suitor
Jared Suitor is a professional singer, guitarist and producer. He graduated in 2015 with a Bachelor's Degree from Belmont University in Nashville, TN with a major in commercial music and minor in music business. Jared's has been performing as a lead singer and guitarist all around Vancouver. Through the COVID-19 pandemic Jared has co-founded the Dance/Pop music duo "Benji" and has continued to teach, perform, and produce music from home and online.
Andrea Superstein
One of the most versatile voices in music today, Andrea Superstein was dubbed as "redefining jazz" by the Vancouver Province. Her musical stylings exemplify powerful vocals, evoking the gentle and the strong, the light and the dark, deep blues to pop confection, often in the same song. She lithely navigates the colours of the emotional spectrum, luring us in deeper with killer improvisational instincts and exceptional storytelling.
Joel Eddington
Joel Eddington is a full-time professional magician who has been working the Vancouver area for over eight years. Pre Covid, he performed strolling magic weekly around the city, primarily at the Fairmont Pacific Rim Hotel.
He has performed for thousands of people including Bryan Adams, Awol Nation, & Naughty By Nature. He has performed on TV/web advertisements & has consulted; teaching actors & directors how to perform magical effects.
Some of his latest TV work was featured on the giant screens in New York's Times Square during New Years eve.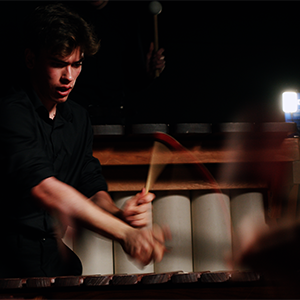 Brockton School's World Music Program
Brockton School's World Music Program has been performing locally and internationally for over a decade. The program has, as its highest aspiration, the fostering of a compassionate, global consciousness through the creation and performance of musical works. The WMP has given educational, fundraising, and outreach performances in Canada, China, Greece, the US, Scotland, England, Austria, Germany, and the Czech Republic, and throughout the COVID-19 pandemic, the program has brought our community together through online events.
DogHouse
It seems that so many of the best things in my life my wife Sheila, my kids, my friends and the 'She Stole My Beer' family- all have roots here so it's really no surprise I have made it my home. Sam and Piper were both born in Lions gate and have lived and gone to school here their entire life. Piper joined the ranks of She Stole my Beer in 2014 at the age of 14 with a solo debut performance at Whistler to a hugely appreciative crowd and has been singing on recordings and playing with the band ever since. Sam has taken a keen interest in song writing and playing guitar over the last couple years and like all things he takes on it is with a great deal of dedication and determination.
Adam Woodall
Adam Woodall is a well-known local performer who has been entertaining Canada and especially the North Shore of Vancouver for over 30 years. Adam has shared stages with such names as Colin James, Atlantis Morrisette, trooper, Doug and the slugs and other Canadian icons. Adam has mostly been performing with his band "the Adam Woodall band" and "ROSCO" which has influences in countryfolk and blue grass. Adam is also an avid photographer/videographer and has a passion for the digital arts. Check out woodall.art.design on Instagram.
Sweet Pan Entertainement
The musical group Sweet Pan is all about Canadians playing the steel drum, 'pan', the only acoustic musical invention of the 20th century, & clearly a major Caribbean contribution to world culture. We specialize in Caribbean rhythms on the many different sizes of drum & have played for dances, weddings, corporate events, community events & interactive concerts since 1994. 
The Benders
The Benders are a North Van institution. They have played every venue in the city at least once. Their blend of rock, soul, funk and blues and will have you heading to straight to the dance floor. During Covid the fellas have been honing their crafts and look forward to getting back in public and doing what they do best.